All About Me & Ginny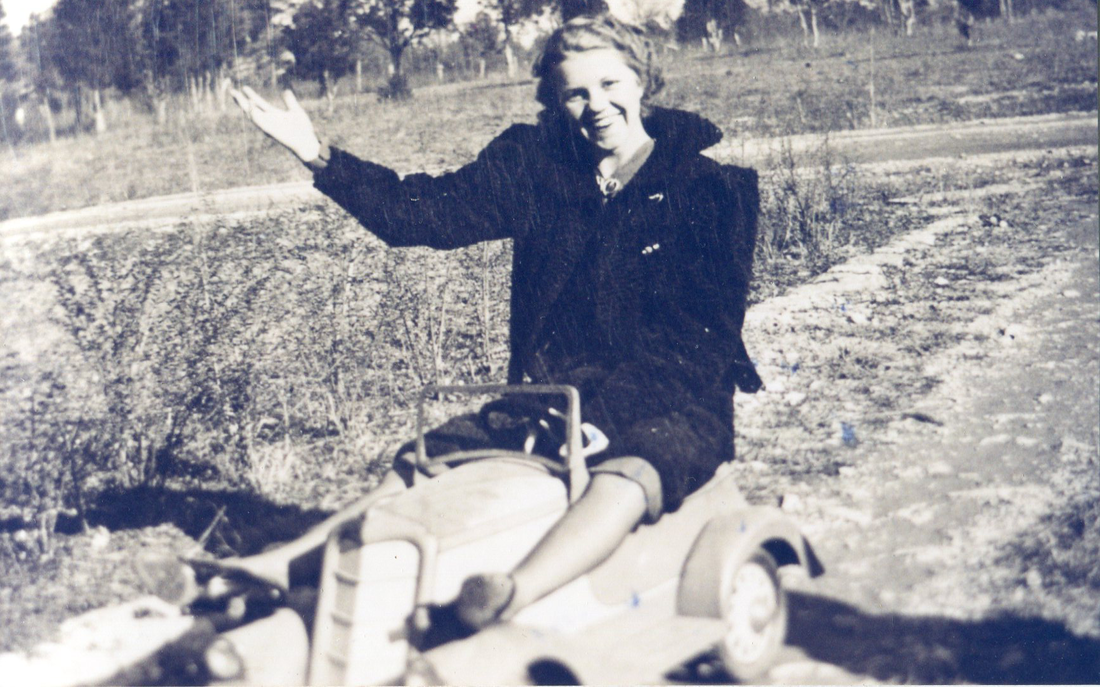 That's not me in the photo above. It's my mama, the original Ginny Pearl, the one that my site is named after. She's been gone from this earthly realm for over twenty-seven years now but she was always far more interesting than I will ever be. I wanted a way to honor her for all of the years of sacrifice and love, all of the inspiration and encouragement and just for being her. My work is all I have to give so I proudly put her name on it.
I've been creating art as long as I can remember. As a toddler, I often decorated my mother's walls with drawings, usually in vivid colors. So, maybe I should add patience and understanding to the list of all she's given me. I was drawing stick figures that were wearing various hats and clothing before I had much grasp of language. Yet, when I grew up, I wasn't certain that I wanted to pursue art as a career. I did major in art in college but I tried on several other hats, too. I never quite settled on any direction until that direction was chosen for me. I was at a low point in my life. The beloved woman in that photo had just experienced her first heart attack, I had lost my job to a work reduction, I had finally decided to give college a break since I'd wandered there for years without reaching a goal or receiving a diploma and maybe the worst of all, I'd just lost a baby by miscarriage. I was at home, depressed and totally at loose ends. Then one day, I was looking through a magazine and I saw something I wanted, really wanted, a carved horse. I didn't have a job so I knew I couldn't afford to buy the horse so I found an old piece of wood in the basement and a rather dull craft knife and I decided to make my own.....I was an art major for a time after all. From the first moment that the knife blade touched the wood, a shock went through me. It was like magic! It felt like I'd come home. I knew this was where I was meant to be and what I was meant to be doing. I ended up selling that first horse, crude as he was. This "little hobby of mine",as it was once described by an acquaintance masquerading as a friend, has taken me all over the country and I've sold my work to patrons and galleries all over the world. For twenty years I created whimsical wood sculpture in a folk art style. I also did freelance design for the gift market for many years. Then, around the time that I was becoming burnt out by all of the hours and non-stop work it takes to maintain any solo, owner run business, my husband gave me a wonderful gift. The gift came in the form of a beautiful, dapple gray mare named Mouse. She became my muse and my inspiration and very often, my model. For over ten years, I concentrated on photography, mainly equine. Now, I'm returning to my artistic roots. I'm not only carving again but I'm adding several other mediums besides wood. Some are old friends and some I've yet to get to know really well but I'm looking forward to the process.
I'm now working or planning on working in: pen and ink, watercolor, encaustics, oil, hand carved woodblock prints, mixed media "soft" sculpture (not quite soft since I'll be including carved parts and organic parts) and my most recent endeavor, I'm illustrating several coloring books for adults. The first one will be published before the end of July, 2017. The first four will be part of a series based on the books of Alice's Adventures in Wonderland by Lewis Carol. I have always loved those books and the characters within their pages. Now, I can joyfully create my vision of how they look in pen and ink. I will also be offering prints of some of those illustrations for sale in my
Etsy Shop.
Yes, I do like to mix things up and keep my life and art interesting. I like to call it an Artistic Gumbo and I hope you find it delicious!